4 Tips To Improve Your Office Lighting
Posted on 30 March 2021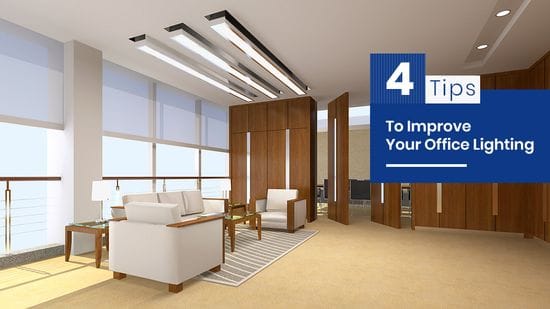 The lighting of your office makes a difference to the atmosphere and productivity of your workers. Lighting affects the ambience of the environment - an environment that's too bright can induce the symptoms of migraines and where lighting is too low, it can contribute to creating a tiring, depressing environment.
Lighting changes the way spaces feel and is a defining pillar to the entire atmosphere of an office and it's productivity, so it's worth evaluating how your lighting can be improved.
Why is lighting important in an office?
Poor lighting in an office can lead to several issues that will cost your business time and money in the long term:
Low productivity
High employee error rates
Eye fatigue and strain
Low focus
Headaches / migraines
Low worker morale
General sickness in your employees
How can you fix poor lighting in your office?
1. Install ambient lighting
Ambient lighting is low intensity, creating a more peaceful space for the office and it's a lot more important than you might think. Lighting that is too bright has been attributed to creating more stress in workers - particularly fluorescent lighting.
Any space where employees will be productive for long periods of time should not contain light that is too bright or too intense. Direct light is damaging to productivity and can affect how your employees feel physically and mentally at work.
Whether redesigning the office space or starting from scratch, ambient lighting will help improve the overall atmosphere of your space.
2. Switch out fluorescent lights for LEDs
Fluorescent lighting became a popular fixture in offices due to their inexpensive price tag. In contrast, LED's are far cheaper in the long run; they're cheaper to install and the running cost is much lower.
These lights run on a fraction of the wattage and last longer, meaning they don't need to be replaced as often as a fluorescent light.
3. Invest in a lighting control system
Lighting control systems save money - they allow you to alter the lighting within the entire workspace, applying subtle changes to the illumination and overall feel of the space.
Additionally, setting light cycles will give the bulb and other forms of lighting longer lifespans. This also helps set the right ambience. A quality system will allow you to adjust spaces that are over illuminated and under illuminated.
If your office is lucky enough to also have ample natural light, a quality lighting control system will also allow you to balance the natural light, control glare and simplify lighting concerns, allowing your employees to enjoy natural light while not over brightening the environment.
4. Reduce direct and indirect glares
Glare is caused by a source of lighting that enters your line of sight by reflecting off surfaces, particularly a glossy or shiny surface.
It's important to identify any glares in the office and adjust lighting accordingly - for example, using lower intensity light fixtures instead of high-intensity or using conventional light fixtures with a diffuser to soften the intensity.
How to find out if your office needs better lighting:
Ask your employees/team how they feel about the lighting:
Do they suffer from eye strain? Are they squinting? Are headaches more common at work? Do you often lose employees during work time to migraines?
Have a professional electrician come and evaluate your lighting and provide suggestions on how you can improve, increasing productivity and happiness in your office and your employees.
If you're looking for a licensed Gold Coast electrician to conduct your electrical services, contact our team today on (07) 5593 8809 or
click here
.