Are your smoke detectors compliant and up to date in your home and business?
Posted on 5 July 2021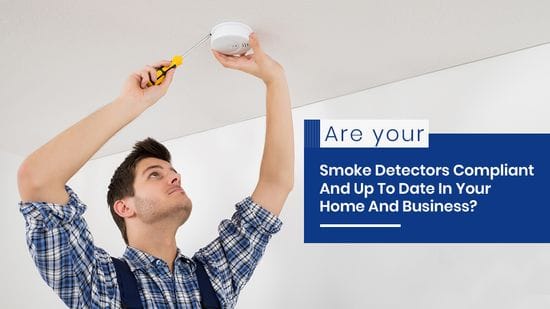 You've likely heard that as part of a 10-year phased rollout, a series of changes will be coming to Queensland homes and businesses.
Queensland is home to gorgeous weather, beautiful beaches and particularly strict smoke alarm safety and compliance codes. Both your home and workplace need to comply with these regulations and legislations or you could be facing health and safety risks as well as fines.
Some of these acts, codes or legislations include:
National Construction Code 2016
Building Fire Safety Regulation 2008
Australian Standard (AS) 3786-2014
Land Title Act 1994
Fire and Emergency Services Act 1990
What's changing?
Queensland is set to become the safest state in Australia in terms of fire safety.
The big changes relate to changing to photoelectric smoke alarms and enforcing interconnectivity between a dwelling's alarm system.
Some of the key changes are as follows:
Smoke alarms must:
Be photoelectric and comply with Australian Standard (AS) 3786-2014
Not also contain an ionisation sensor
Be less than 10 years old
Operate when tested
Be interconnected with every other required smoke alarm in a dwelling
Source: https://www.qfes.qld.gov.au/prepare/fire/smoke-alarms
Who do the changes apply to?
You're going to need to be keeping up with these changes if you're a:
Landlord
Owner occupier
Renter
Builder or renovator
Seller or buyer
When are the changes happening?
For some, the changes are already in effect. For others, the rollout plan is as follows:
As of the 1st of January 2017, all newly built homes and substantially renovated dwellings must have photoelectric smoke alarms installed.
From 1 January 2022,all landlords must have installed compliant smoke alarms in their residential rental properties.
All other dwellings must be fully compliant with the changes by 1 January 2027
What about New South Wales?
If your home or business is across the border in New South Wales, your compliance codes are unique and have experienced changes as recently as March 2020.
Some points your home or business need to keep up with are:
At least one working smoke alarm compliant with Australian Standard 3786 installed on each level of the business premise or home
If bedrooms are separated in a household, they must have their own smoke detectors in each location
Smoke alarms must be replaced within 10 months of manufacture, or earlier if specified
Source: https://www.planning.nsw.gov.au/Policy-and-Legislation/Buildings/Fire-safety-in-buildings/Smoke-alarms
How can I check that my home or business's smoke alarms are up to date and that they comply with all legislations?
You should test your smoke alarms often to make sure they're still active and the batteries aren't dead. If your smoke alarm is hardwired, consider calling us on (07) 5593 8809 to safely inspect it.
The manufacturer date and compliance code should be printed onto the smoke alarm and you can check with your State's unique fire safety laws and legislations in regards to the alarm being a suitable type for you and your home or business.
If you're unsure of what to do next or need help installing and repairing smoke alarms in your home or business, don't hesitate and call Airey Electrical now at (07) 5593 8809, or fill out an enquiry form online.

Smoke alarms save lives and the codes and laws are there to protect us, every second counts in an emergency.