How Poor Electrical Maintenance Will Cost Your Business
Posted on 18 February 2021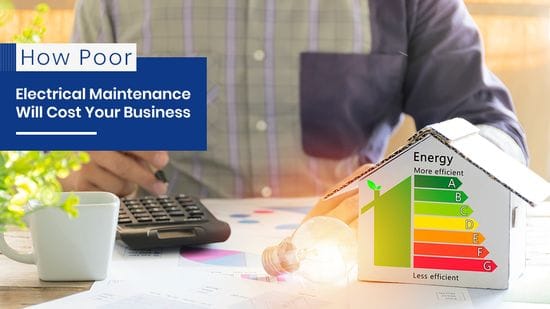 Business owners know just how much well functioning electricity is a vital part of their day-to-day operations. Without functioning electricity, you risk losing precious time and money. Even with this fact in mind, many business owners don't have routine electrical maintenance performed in their office or premises.
But why is it so important?
Without routine maintenance checks, any faulty electrical equipment or faulty wiring may go unnoticed until it's too late.
If you still need convincing why your commercial premise or office needs regular electrical serving, here are 5 ways poor electrics in your office space will cost you time and money:
1. Poor maintenance routine
A lack of routine in your electrical maintenance puts you at risk of more severe issues later down the track. Think of any minor electrical issue as an issue that can quickly snowball into a disaster, ultimately which can end up costing your business a lot more than regular servicing would.
Regular electrical maintenance allows for a qualified electrician to look for signs of damage and wear and tear. Minor problems will be picked up, any faults can be attended to quicker, older properties will have wiring kept up-to-date and it can also prevent electrical fires and electrocution. Additionally, the costs involved in regular maintenance greatly outweigh the costs of a major electrical issue down the line.
2. Inefficient use of energy
Without regular maintenance, you could find your electrical bills adding up very quickly. Lighting accounts for a substantial portion of most electrical bills and inefficient light bulbs certainly don't help you save on expenditure.
Old light bulbs, such as incandescent or halogen bulbs, are renowned for using up more energy in comparison to more modern bulbs. Regular maintenance by a certified electrician can help you identify electrical energy wasters.
It's also useful to have your staff educated on energy-saving features, including those that are applicable to air conditioners and printers, and how they can use those features to cut back on energy expenditure.
3. Frequent interruptions
If your office electricity is poorly set-up or poorly maintained, it can cost your business money. These faults can cause interruptions to your workers routines and productivity which can eat into the ease of your operations and processes.
From computer failures to overloaded electrical circuits, these interruptions could all be avoided with regular maintenance.
4. Not having an efficient backup generator system
As mentioned previously, when your office or commercial property experiences faulty electrics, you're at risk for losing money and your precious operating time. If there's also a loss of electricity that isn't your fault or in your hands, you can rest assured that you can still continue to operate.
Having a qualified commercial electrician install and maintain a generator backup system will ensure if the power goes out, your business is safe until repairs are made.
5. Dangerous for your employees
Health and safety comes first, so it goes without saying that faulty, unmaintained electrical work is a danger to you and your team. Consider the threat of fire hazards and electrocution - none of which you want occurring to you or your employees.
As a business owner, having electrical maintenance done regularly and professionally should be a top priority to ensure the safety of your premise.
How to prevent electrical issues in your business?
As explained, routine maintenance and checks can prevent issues before they've even started. Maintaining the electrical health of your premise should be a top priority, allowing you to continue business as usual without a worry that you could lose power and ultimately, the productivity of your business.
What's involved in electrical maintenance?
Electrical maintenance is carried out by a licensed electrician. Some of the more common services include:
Switchboard maintenance
Lighting tests and energy efficient suggestions
Smoke detector tests
Powerpoint tests
Wiring repairs
If you're looking for a licensed Gold Coast electrician to conduct your electrical services, contact our team today on (07) 5593 8809 or by clicking here.